✧ Petitecreme ✧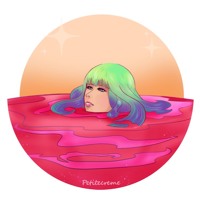 Hello! I'm an illustrator, comic artist and designer! I enjoy creating pastel feminine work and dark themed comics.
I'm available for project and commission!
gemsheldrake@gmail.com
Find me elsewhere
Social Media
Portfolio
Twitter
Facebook
Instagram
Art blogs
Tumblr
Deviantart
PIXIV
Behance
Online comics

The Wastelands
Lilies in the Box
Online Shop
Storenvy
Pekoe Imperia
Society6
Redbubble
Itch-io
Comixology
Popular Posts
I was really lucky to be a part of Catstealer' s " It Takes A Woman " an all female Overwatch fanzine! I got to ...

Last year in October I took part in Inktober, a daily challenge to create an inked illustration every day of October with a running the...

Majority of my characters in Wastelands use a bow arrow because it is quick, silent and is really hard to draw. I needed reference and pract...

A big thank you to every one who dropped by to visit me at True Believers this weekend (4th Feb) in Cheltenham It was a small con but fu...

I was asked to take part in a new anthology promoting chubby bodies and I choose to do a West Indies style witch, bottling up a spirit....

I was commissioned by long term friend and excellent youtube content creator DFactor to help create some branding artwork for his youtu...

A big thank you to every one who dropped by to visit me and Mimi Evelyn  at Thought bubble this weekend (5th-6th Nov) in the New Docks H...

I was interviewed by  Jackson Ingram  Jan 5th 2015 with my work on the OFF comic I was doing at the time. Original article here Cente...